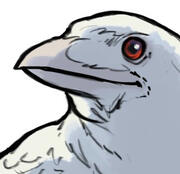 Fran's carrd
Hello,

I'm Fran and this is my Carrd. I made it to potentially answer the questions that completely random strangers on the internet might potentially have for me before they choose to engage with me, and show you how and where else to find me.
I'm an INFP, that should explain a lot.

I have a Master of Arts in Medieval and Renaissance Studies (with a focus on Anglo-Saxon poetry, with a dash of medieval literature in general, and Latin language+literature through the ages, if you wanna know), but had to realize that academia is not a place I could work in and keep my sanity, so I quit. As per lack of any other education, my only option was to pursue art, so that's the super interesting story of how I became a freelance artist although I have zero business sense, and draw anime bullshit.

Always into Metal and anime songs.
I'm always up for anything with pretty pictures, weird animal facts, and I'm a sucker for mythology, and for historical fashion.
I swear like a sailor.

I RT a lot, please turn off RTs and/or block hashtags as you see fit.

Please do not follow me if you're LGBTQA+-phobic (yes, that includes TERFs), racist or right-winged. My content is not for you, and the things I talk about and RT/reblog most likely aren't, either.

Don't follow me if you're an anti-shipper or otherwise deem it okay to cyber-bully other people simply because you do not like the content they create, either, period.

I'm into a lot of franchises but don't often interact with fandom except dropping the occasional fanart, so maybe you will be disappointed if you follow me for one particular fandom.

if you need me to tag anything in my own posts, please let me know!

If you are a minor: I try to keep my feed free of uncensored and uncropped nsfw artwork, but I will make no such promise for my likes. Cropped and/or censored artwork might come up, but it's unlikely. In either case I have a potty mouth, so expect explicit language. If that makes you uncomfortable, please feel free to leave.

Please consult your parents if you're unsure whether my content is for you or not. I'm not your mum, and I have neither time, nor nerves, nor responsibility to check every single stranger's profiles on the internet whether or not they are old and mature enough to be here.

If you have questions before you decide to follow or not, feel free to drop them at my Curious Cat!